Well Last week was our biggest yet in link ups
Brava, Ladies!!
I asked you to make this the best week ever for Link ups and y'all did not disappoint
I am so psyched about our features this week
We had some really awesome links
*******
She is so uber funny and just started Vlogging not to long ago on top of her blogging.

Check out her blog and her vlogs, they are all so stinkin' funny and she is super creative.
Next up is some
serious
Yumminess from
Persnickety Plates
(Don't you just love that name!?)
And they definitely will not fit in my new diet,
But a girl can dream!
Last up today for our features we have some colorful awesomeness from
Crochet Attic
She makes some really awesome stuff.
I love these colors together! what an unlikely grouping of hues
I love them!
*******
Thank you to ALL of you who linked up this week
I truly appreciate the sharing y'all are doing!
Grab this button if you were featured this week: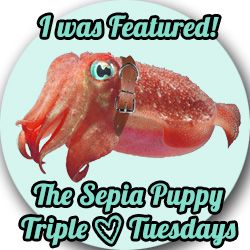 Now, It's time for this week's awesomeness to begin: